Trick or Treat: Don't Be Fooled by Fake Notaries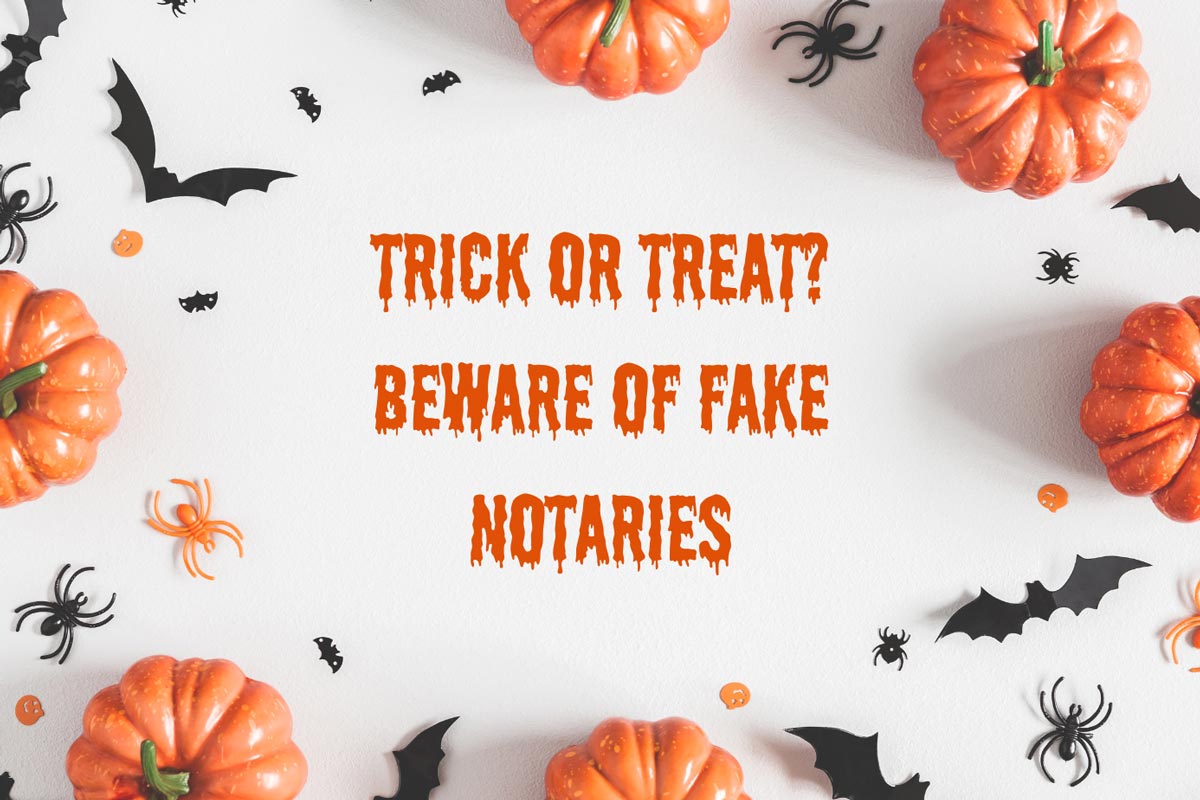 Boo! Halloween is just around the corner, and while you might be on the lookout for spooky surprises and candy-filled adventures, there's one thing you definitely don't want to encounter: a fake notary! 🎃
Sure, fake notaries might not be lurking in the shadows, but they can be just as frightening when it comes to your legal documents. So, gather 'round as we shed light on the ghoulish risks of using unverified notaries and how to ensure you're working with a legitimate notary public. It's time to separate the real notaries from the tricksters!
The Horror of Fake Notaries
Fake notaries might not wear ghostly costumes, but their actions can haunt your legal affairs for years to come. Here's why you should be spooked by them:
1. Unreliable Notarization: Fake notaries can't provide the reliable notarization services you need. They might mishandle your documents, fail to verify your identity, or use expired seals—all of which can render your documents invalid.
2. Legal Nightmares: When your documents are not properly notarized, they can lead to legal nightmares. Imagine your real estate deal going south because of a fake notary's blunder or your will being declared null and void. Terrifying, right?
3. Privacy Breaches: Fake notaries may not prioritize your privacy and security. Your personal information and sensitive documents could end up in the wrong hands, leaving you vulnerable to identity theft or fraud.
How to Survive the Notary Nightmare
Now that we've unleashed the horrors of fake notaries, let's talk about how you can protect yourself from these legal specters:
1. Verify Their Credentials: First and foremost, always verify a notary's credentials. Legitimate notaries are registered with the state and should have their notary commission details readily available for confirmation.
2. Check Their ID: Just as they'll check your ID, you can check theirs! A valid notary should have government-issued identification, such as a driver's license or passport.
3. Examine the Seal: Take a good look at their notary seal. It should be current, clear, and legible. If it looks like it's been through a zombie apocalypse, that's a red flag!
4. Ask Questions: Don't be afraid to ask questions about the notary's process. A genuine notary will be happy to explain the steps and address any concerns you have.
5. Read Reviews: Check online reviews and testimonials to see what previous clients have to say about their experiences with the notary. A stellar reputation is a good sign.
6. Choose Wisely: Finally, use your gut feeling. If something feels off or too good to be true, it might be best to find a different notary.
Don't let these legal phantoms haunt your important documents. Stay vigilant, verify credentials, and you'll ensure that the only scares you encounter this Halloween involve ghosts, goblins, and the occasional overenthusiastic neighbor with spooky decorations.
Happy Halloween, and may your notary experiences always be treat-worthy, never tricky! 🎃👻📜
Experience the Negretes Notaries difference. Submit your notary request today.
Need a Notary Now?
Submit your notary request and we'll be in touch to finalize the details.
Connect with Negretes!
Sign up to receive tips, information about free events, industry insights and more!
It looks like Javascript isn't enabled in your browser. Please enable it in order to fill out this form.